Munnar with her unrivalled ravishing beauty
With everyone moving in the fast lane; parents working hard and kids busy with their studies, everyone yearns now and then for a short break. Now's that perfect time! With schools closed for the summer break and children, all tired after the hectic exam schedule, planning a family vacation would just be the right option. To where you ask? We have picked the best family holiday destination – Munnar!
Plan up a two-day/ three-day or even a week-long getaway. There's plenty in store at this famous hill station to keep you engaged! Nestled on the Western Ghats, with pleasantly cool temperatures is Munnar; a place so blessed by mother nature that it indeed holds up Kerala's name – The God's Own Country!
Munnar
This charming hill station, also known as "the Kashmir of South India" is situated at an elevation of 1,600 metres from the sea level in the Idukki district of Kerala. Blessed abundantly by lush greenery, mist-clad hills, gurgling streams, roaring waterfalls, and cool breeze this place is a significant tourist spot in the world.
Reaching this famous family holiday destination
By Road:
The place is easily accessible by roads. So, if you are planning a drive, here is how far Munnar is from some of the major cities.
Approximately 127 kilometres from Cochin (via NH 85)
274 kilometres from Kozhikode (or otherwise known as Calicut) [via NH 85]
91 kilometres from Thekkady (via SH 19)
172 kilometres from Alleppey (or otherwise known as Alappuzha) [via NH 66 and NH 85]
154 kilometres from Thrissur (via NH 544 and NH 85)
278 kilometres from Trivandrum (or otherwise known as Thiruvananthapuram) [via NH 85]
156.5 kilometres from Coimbatore (via NH 83 and Udumalpet-Munnar road)
154 kilometres from Madurai (via NH 85)
477 kilometres from Bengaluru (via NH 44)
If you are not planning on driving yourself, cab and bus services are readily available.
By Train:
The nearest railway station is in Ernakulam. Upon reaching the railway station, you can avail the service of a cab or bus. Or, if you took up the help of a tour operator, he would help you out.
By Air:
The Cochin International Airport (CIAL), is just around 107 kilometres away from Munnar and is the closest airport. Since the airport is well-connected with the other cities by road, getting a cab to drop you at your holiday destination won't be a tough job!
Climate at this traveller's favourite holiday destination
Situated at an altitude of about 1,600 metres, this hill station enjoys pleasant and cool climatic conditions all through the year; with temperatures between 15 degrees and 20 degrees. The winters here gets cooler and the temperature drops to about 11 degrees. The place has three major seasons: Summer (months of March-May), Monsoon (months of June-September) and Winter (months of November-February). During the summers, temperatures can soar to as high as 35 degrees and the minimum being at 22 degrees. At the time of the monsoons, the place receives mild as well as heavy showers and the temperatures during this time can soar to a maximum of 25 degrees or drop to a minimum of 20 degrees.
Where to stay?
Munnar is favourite among many holiday goers and so there are several resorts and hotels that offer good accommodation facilities both budget as well as luxury ones. Here is one of the best resorts in Munnar that provides the best accommodation.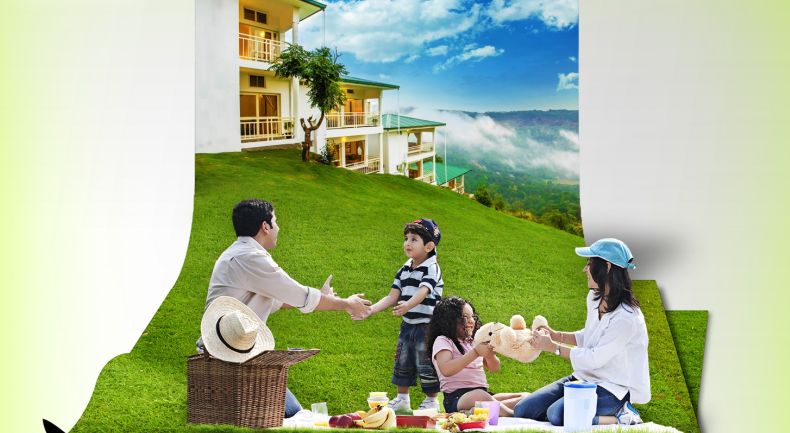 The Wind Munnar stands out with its excellent services among the resorts in Munnar
This premium resort is one among the best resorts in Chinnakanal, Munnar. Located on the cliff edge, the resort provides excellent views of unspoiled nature and is perfect for holiday stay in Munnar. Having two different kinds of cottages – the Cliff Edge and Honeymoon Cliff Edge cottages; both available at affordable prices, this is one of the best budget hotels in Munnar for family.
The Cliff Edge Cottages available here at budget rates are always a family man's first pick. Neatly designed cottage interiors with attached bathroom and balcony that provide good views are the specialities of this cottage; thus, assuring the best family accommodation in Munnar.
The Honeymoon Cliff Edge Cottages are generous in case of space. Romantically designed cottage interior with attached bathroom and large balcony that assures excellent views of unspoiled nature are what that makes this cottage a favourite among honeymoon goers.
This best family resort in Munnar provides facilities like a multi cuisine restaurant, extra bed, travel desk and an indoor games room. With cordial services available throughout, the stay here becomes a memorable experience. Being located on the cliff edge away from the Munnar town, this property is chosen among the resorts in Munnar for family and assures one maximum seclusion. So, if you are looking for a cozy little place and a tranquil holiday, head over here!
There are also several attractions that is located close-by the resort. Some of them include Muniyara (or Dolmens), Anayirankal, Kolukkumala, Lockhart Gap, Powerhouse Waterfalls, etc.
Cottage rates and tariff
Cliff Edge Cottage:
INR 5000 + tax
Extra Bed: INR 1000
Honeymoon Cliff Edge Cottage
A brief up of the must-see places in Munnar
Here is what you should not miss on your visit.
The Muniyara (or Dolmen):
Curious and curious are the ways of our ancestors. The way they built up structures without any of the modern technologies is even more amazing! The Dolmens belonging to the Megalethic age is a favourite spot for archaeologists from all around the world. Watch how well your kids would explore them on your family vacation!
Tip: If you are staying at The Wind, then its double treat. Trek to the site of the Dolmens during the evening (it is only a 1.5 kilometre trek!); explore the Muniyara and also witness a breath-taking sunset.
Kolukkumala:
The Wind is one of the best resorts in Munnar near Kolukkumala. This second highest peak in South India is home to the some of the world's highest tea plantations. The Harrisons Malayalam Tea factory visit (Entry fees applicable) would be fun; finding out the step-by-step processes involved in processing tea leaves.
Tip: Thoroughly enjoy a bumpy and thrilling jeep safari ride to Kolukkumala along with a visit to the tea factory.
Anayirankal:
This is one of the must-see places in Munnar that is now buzzing with tourists. The major activity that attracts the lot here is boating. Both speed and low-speed boats are available.
Lockhart Gap:
Renowned as a viewpoint and a shutterbug's paradise, Lockhart Gap has something that would hold your breath – The Malayil Kallan Guha; a cave within which a thief once lived looting passers-by!
Powerhouse Waterfalls:
Named after an old powerhouse situated nearby, this is one of the quite renowned waterfalls at this famous hill station. The water of this falls originates from the 'Sita Devi Kulam', a lake at Devikulam in which the Goddess Sita is believed to have taken bath and hence the name. Along with pristine natural beauty surrounding the place, the Powerhouse Waterfalls is one that should not be missed.
Top Station:
Situated at an elevation of 1,700 metres sea level, Top Station will give one excellent views of the Western Ghats and the Theni district of Tamil Nadu. The place is 32 km away from Munnar on the Kerala-Tamil Nadu border.
Meesapulimala:
A spectacular scenery of the the Meesapulimala, one of the must-see places in Munnar
'Have you seen the mist covered Meesappulimala? Have you seen the magic mushrooms?'... (Originally in Malayalam. Translated into English for understanding purposes.) – A dialogue said by the Indian film actor Dulquer Salmaan in the Malayalam movie 'Charlie' brought back Meesapulimala into one of the must-see places in Munnar. A trek to this 2, 640 metres high peak (the second highest peak in the Western Ghats after Anamudi) promises one mesmerizing views and an incredible experience.
A scene from the Malayalam movie 'Charlie' shot at Munnar (Image Courtesy: Manoramaonline)
Other than these there are several other attractions in Munnar. They include Kundala Dam, Echo Point, Marayoor, Attukal Waterfalls, Mattupetty, Rajamala, etc.
Hoping that the article conveys a good idea of Munnar as the best family holiday destination. So, now why wait, plan up a memorable family holiday!